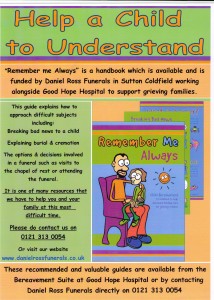 Daniel Ross Funeral Directors, based in Walmley, Sutton Coldfield are proud to be working alongside Good Hope Hospital in Sutton Coldfield by funding and making available a bereavement guide called "Remember Me Always" which is specifically aimed to help parents support their children when a death has occured within the family.
It is estimated that 85% of funerals have a child touch point where the loss may be a grandparent, aunt/uncle, family friend, or more tragically a parent or sibling.
The guide is wrote by bereavement child experts but it's publication funded by Daniel Ross Funeral Directors in Sutton Coldfield who are accredited members of The National Association of Funeral Directors.
Daniel, owner of the independent family run funeral directors, says " At a time when families are trying to come to terms with the loss of a loved one, this guide has proved to be a lifeline for parents attempting to meet the needs of their remaining family"
A Macmillan nurse, comments "Whilst working as a Macmillan nurse, I longed for a book which gave information to families when there was an expected or actual death in the family. I feel this book is practical, accessible and easy to read and will meet the need of these families by providing guidance on breaking bad news to children, children and funerals, how children react to the death of someone close to them and other important subjects"
Daniel Ross Funerals in Sutton Coldfield, prove their commitment to the local community by making these most valuable guides accessible at Good Hope Hospital, following a bereavement. The caring family business provide these guides as standard to the families that they serve and is just one of the many resources that they have to help their families at their time of need.
Daniel Ross Funerals operate a 24 hour, 7 days a week,  support and emergency service on 0121 313 0054 and their funeral home is based in Sutton Coldfield, near to Good Hope hospital.