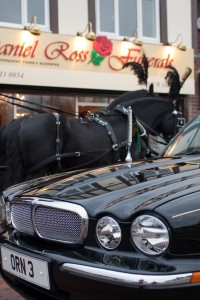 We pride ourselves in the high standard of our funeral procession, and the quality of our funeral vehicles in the cortege is of paramount importance. That's why we choose to use glossy black Jaguar Daimler hearses and limousines.
We can supply alternative funeral vehicles upon request – the most popular being the traditional, black plumed Horsedrawn Hearse. Of course, there is a wide range of vehicles that can be used in place of the Daimler Hearse at the family's discretion. From motor hearses and limousines by other car manufacturers (such as Mercedes or Rover) or in rarer colours (such as navy blue or white) to more unusual requests,including:
Motorbike Hearse – in a choice of Harley Davidson, Suzuki or Triumph
Leyland Beaver 1950's lorry hearse
Landrover Defender cortege
Pink hearse
VW Camper Van hearse and Beetle Limousines
White Horse Drawn hearse with mourners carriage and outriders where required.
All funeral vehicles provided by Daniel Ross Funerals include a uniformed chauffeur.