Here at our funeral home, Grace Mary House, we are able to offer our families a private and intimate chapel for a funeral service. Many families choose for the funeral service to be a small private affair therefore our facilities here at Daniel Ross Funerals have proved invaluable as we are the only funeral directors able to offer a chapel in Sutton Coldfield to such high standards.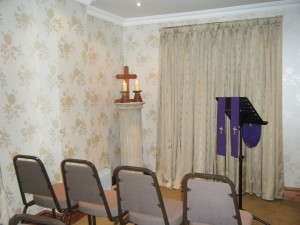 Our Chapel has received both blessing and dedication for all religions and can comfortably seat up to 16 mourners or family members. In addition, there is ample room for the coffin to rest within the Chapel alongside the lectern which is the stand from which the officiating minister/priest/funeral celebrant would take the funeral service from.
Our Chapel has been also used to take non religious services, as we are able to personalise the Chapel with religious symbols for each denomination or with more personal items such as photographs or family pictures. Our Chapel also has the facility to have CD music played and/or piped music to sing hymns to. Should a family prefer to have a live organist or soloist at the funeral service, this also can be arranged.
Our flexibility and our accommodating approach guide our families and assist them to finding a truly personal way to say goodbye to their loved one. At Daniel Ross Funerals, we are proud to help our families create a truly personal and intimate funeral service.